Visit the house with a guided tour
Welcome to discover Gunnebo House, just outside Gothenburg! Located on a hill stands the neoclassical castle overlooking the surrounding countryside. The architecture, together with the surrounding garden, reflects a cohesive 18th century environment. Gunnebo House was built as a country house for the successful merchant John Hall and his family. The entire facility was designed by Gothenburg city architect Carl Wilhelm Carlberg.
Please note that the tours are offered in Swedish. However, should you like to hear parts of it in English, please tell the guide before the tour starts.
GUIDED TOUR – TREASURES OF THE EAST INDIES
29 May- 20 June
---
Saturdays and Sundays
non 45 min
1pm 45 min
2pm 45 min
extra guidad tours on 29 – 30 May at  12.30, 1.30 pm and 3.30pm
26 June – 15 August
---
Every day:
noon 45 min
1pm 45 min
2pm 45 min
21 August– 26 September
---
Saturdays and Sundays:
noon 45 min
1pm 45 min
2pm 45 min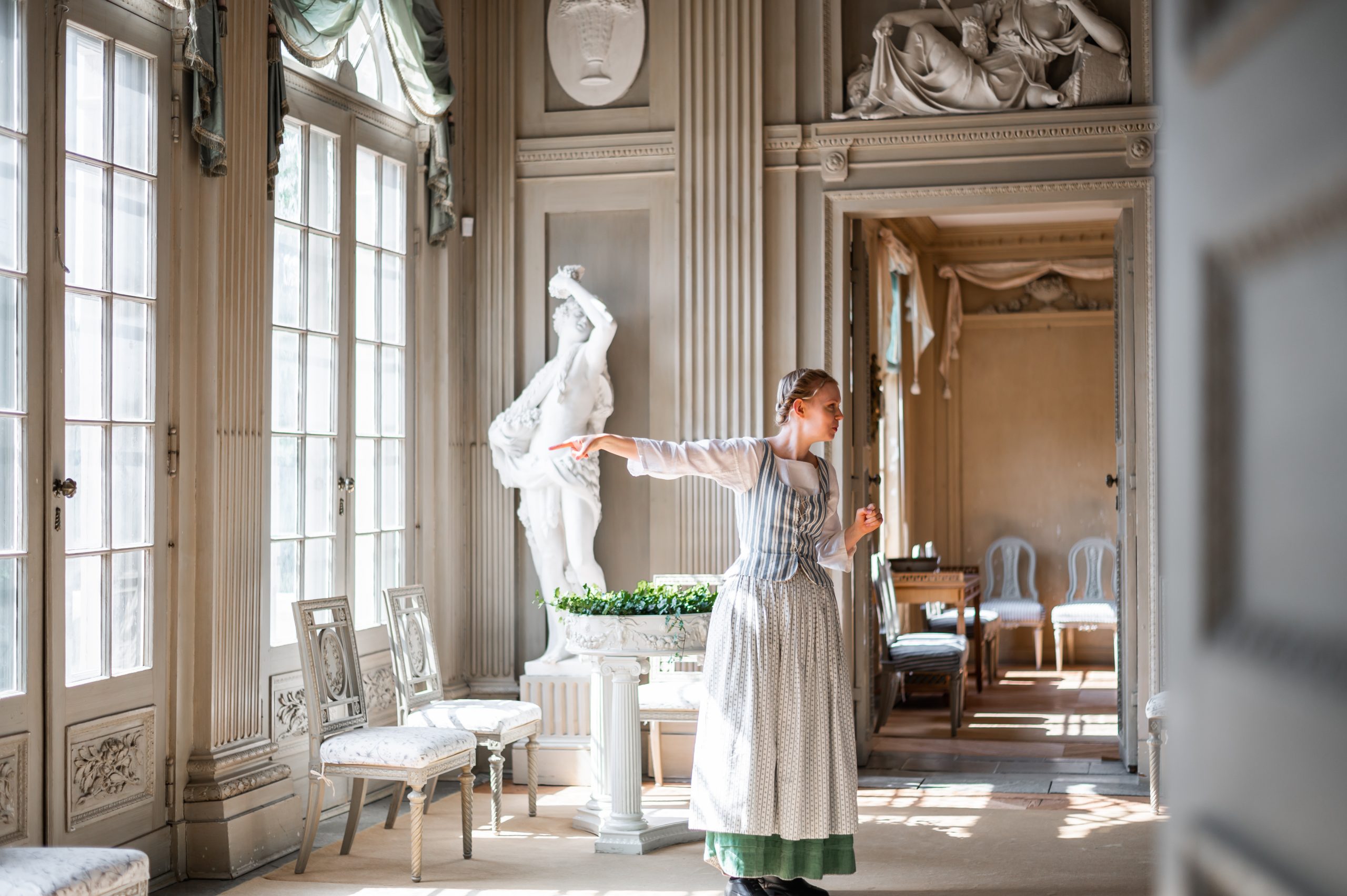 Guided tours in the autumn and winter

---

Welcome to Gunnebo House, one of the most complete 18th century estates in Scandinavia. The tour takes you through the building and brings the fascinating story of the rise and fall of the Hall family to life. If not specified below, the tour is given in Swedish. We provide an information booklet to borrow, available in English, German, French and Russian. You are only allowed access to the House with a tour guide. Tickets are purchased in the gift shop in the north wing (open from 11 am). The tours are given in cooperation with Folkuniversitetet
1 November – 30 December
---
Saturdays, Sundays and public holidays:
1pm (45 minutes)
2pm (45 minutes)
No tours on Christmas Eve and Christmas Day, New Years eve and 1th of January.
Tickets
Adults: 175 SEK, children under 16 years are free of charge accompanied by an adult.